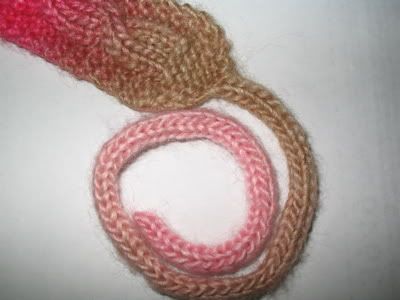 I wrote a pattern. Wanna see it?
This is my first attempt at a knitting pattern, so for those of you that try it, let me know how it turns out. There's a little intro into i-cords and
my version
of 'M1' aka 'make one stitch' which is actually called something else entirely in proper knitting circles. It makes a nice, barely noticeable increase, whatever it is really called. I don't know how to gauge so I don't expect you to either. I used size 6 double pointed needles, but you could use regular straight needles. However, when you i-cord with straight needles you simply knit the 4 stitches, then slide them back on your left needle and continue. The pinkish yarn is Patons SWS in Natural Geranium and the green yarn is ModaDea Washable Wool with a green-y name like fern or moss...