So I some coasters and a Hufflepuff mug months and months ago. Well, I finished another coaster and the Slytherin mug!
My Ragtime coaster! My favorite is the man on the far right. His hand looks like a crab claw, so I always envision this crazy crab rockin out to ragtime music and period garb and yeah... its quite the image.
My ice cream cone dish. Mmmmint chocolate chip!
One of the coolest things about painting pottery is seeing how different pieces look when they are fired. It takes a while to get used to, but then you can really use it to your advantage. For example... a mug I painted for my mom went from this: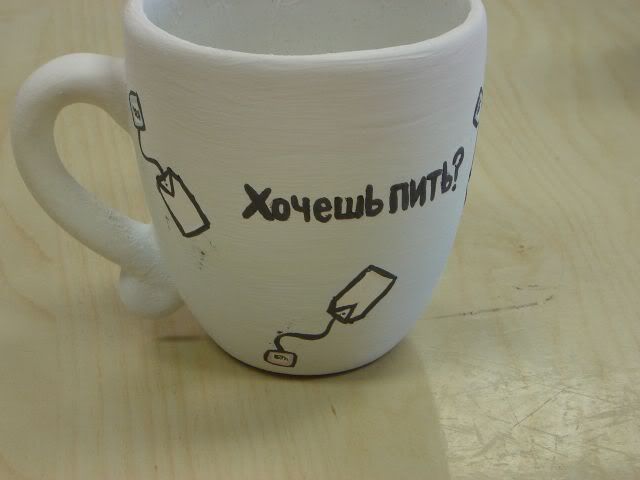 To this!
One of the various birthday plates I painted. I paint 1 or 2 a week on average. My favorites I've done are a sea otter, an elephant, a german shepard, and a lion. Usually I do horses and butterflies. The worst thing I ever had to paint was sponge bob :\ God he was annoying.
Annnnd...
My slytherin mug!!! I'm quite happy with how it came out! Although the snake on the front looks a little sketch...
See? He's kinda all.. "Hey ladiessss whatssssssup?" *leer*
Annnnd the bottom!
And onto sewing things!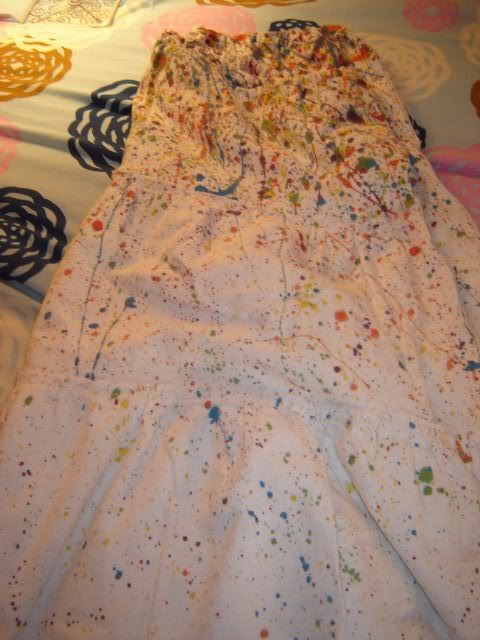 Made this skirt last summer actually, but its one of my favorites. Its just a white 3 tiered peasant skirt that I splattered with watered down acrylics. It was one of the easier items of clothing I've ever made, and I always get compliments on it. It took about 3 hours total to make (not including drying time) and doing the splatters was the most fun ever. I still have paint on my driveway though...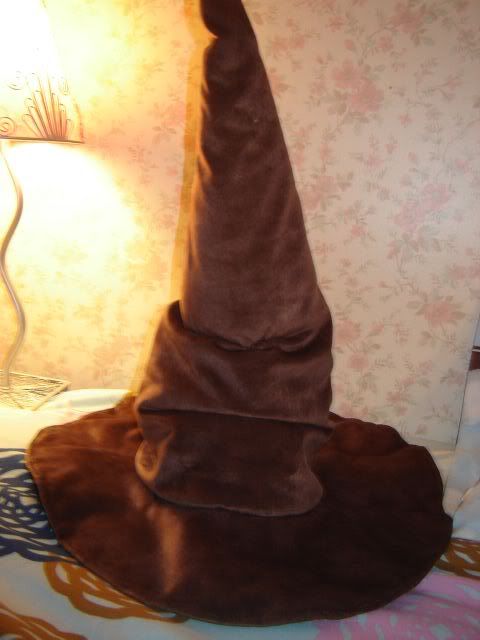 The sorting hat I made for my harry potter party, along with the monster book I did. He was great fun to make, especially the 'face' part.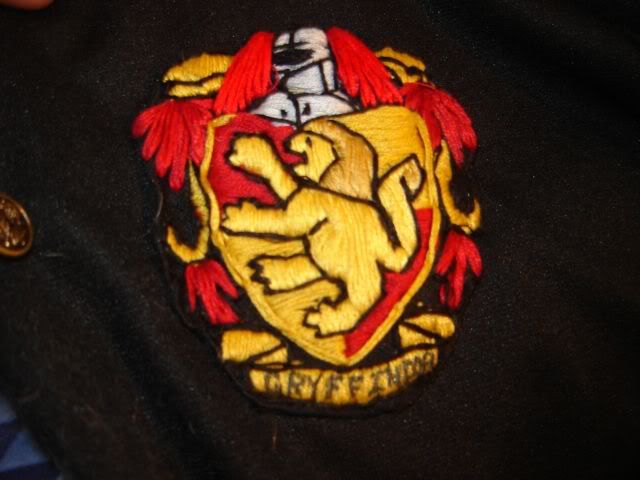 The gryffindor patch I made years ago. I made it when the first movie came out, and there were very limited reference pictures, so its not perfectly accurate Also, it was my very first attempt at using embroidery floss for anything other than friendship bracelets. I thought I was doing embroidery, but my mommy told me it was called 'crewel' or something. Anyways, I did it free hand and am quite proud of it.
And here I am in the full costume all those many years ago! I look like a youngin'!
This, my friends, is James C. Applebum the puffskein. Puffskeins, in case you didn't know, are from the Harry Potter books and are "long-tongued custard-coloured little furballs that make a calming purring noise when you pet them". And while James doesn't make a purring noise, he does make squeaky noises when you shake (or throw) him! Also, note the HP pj pants in the background.... (Oh and in case any ladies were wondering, James C. *IS* single. He enjoys croquet, pony rides on the beach, and olives and dislikes porridge, John Mayer, and cats that eat him. You can email him at "notatribble@hogwarts.edu")
AND FINALLY, my favorite thing I've made in ages: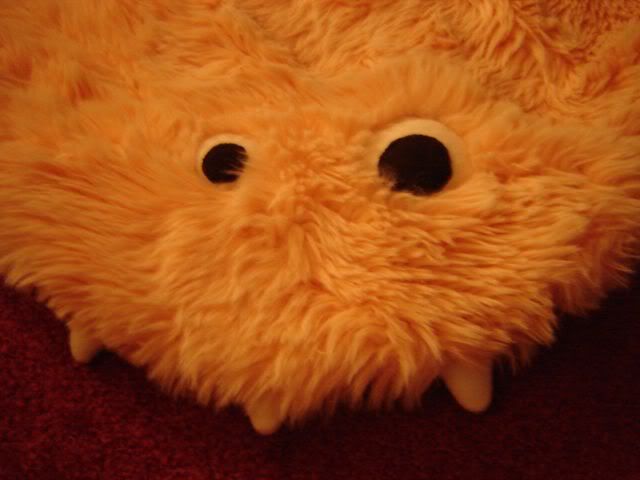 MONSTER BLANKET! He is the best thing ever and is so warm and comfy and lovable and I hug him all the time! Oh, what a pair we be, my monster and me!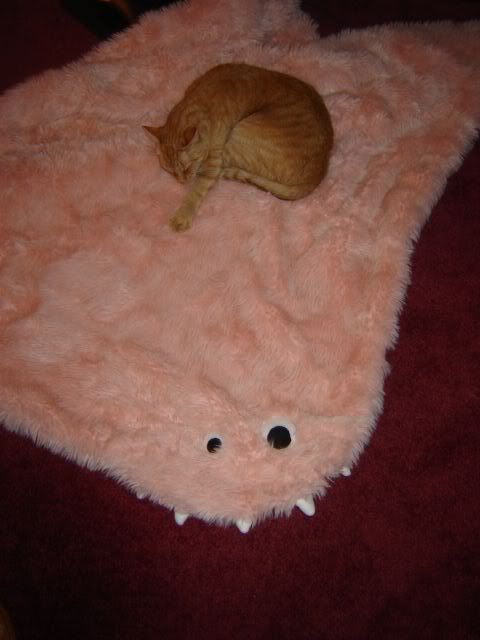 My kitties love him too... I set him down to take pictures and went to go grab my camera and by the time I came back, he was covered in kitty.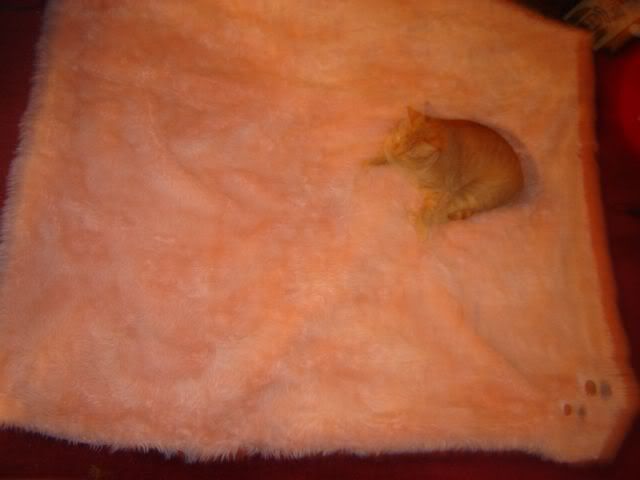 Blurry, but you can get a better Idea of how big he is. He's about 5' by 5' and maaaaan I love him.
ACTION SHOTS starring Monster Blanket and Cosby the cat with a guest appearance by Jello the cat!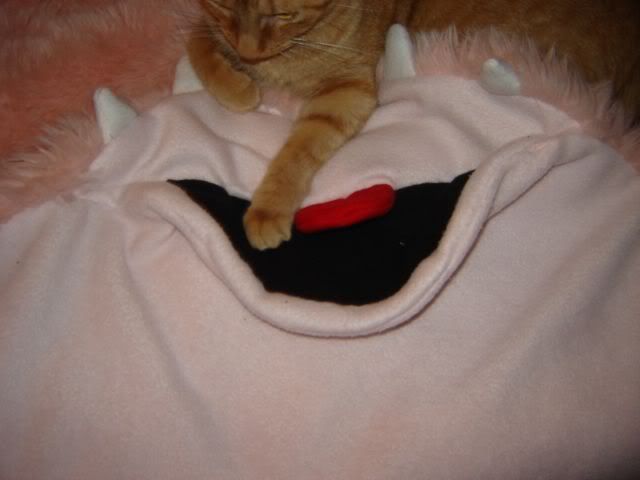 Kitty laid on top of his mouth :\ This doesn't bode well!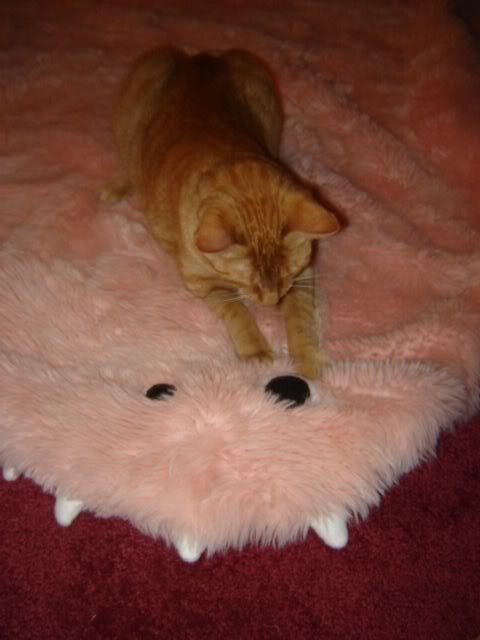 Now kitty pokes him in the eyes!!!!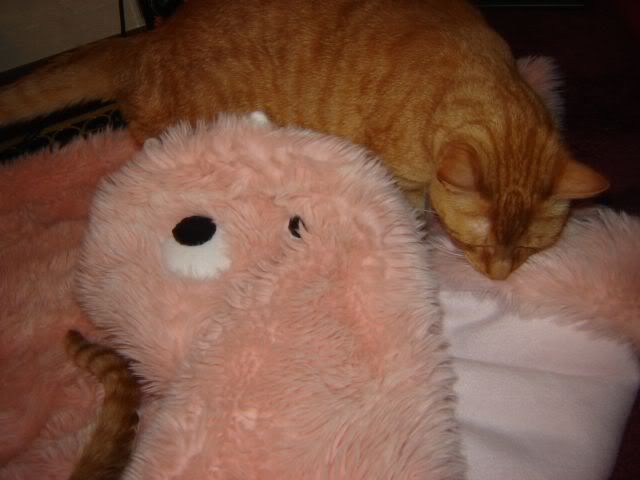 Monster isn't too happy about that...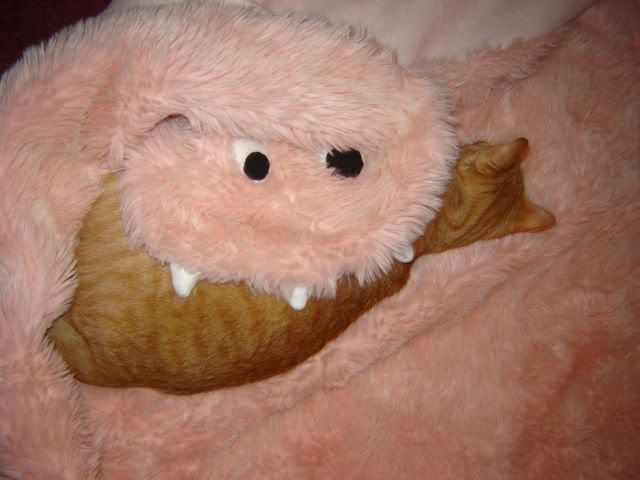 Pooooooor eaten kitty :\
Welllll, thats it kids! I know its a lot of pictures, but let me know what you think, yeah? :D
I haven't been nearly as crafty as I'd have liked to, but I have plenty o' plans now that I've decided to do a local craft fair! Anyways, here are some picturs of various and sundry things I've made. Some are a bit old, but meh. You guys like to look, right? Right.