Hullo lovelies! So, first off, the shiny finished object - I've just done another pair of socks. They are wonderfully comfy and warm and colorful. Knit in Regia Design Line, from the Gentlemen's Half Hose pattern in Knitting Vintage Socks. Modified slightly for a shorter leg.
Now, a question... I've just won, on ebay, a Spiderman pillowcase and duvet cover set. I only really wanted the pillowcase. (I collect pillowcases with superheroes on them, you see.) And while I do have a duvet that will fit the duvet cover, I don't really like the print for my bed, and I already have a cover for that duvet. So.... a good two or three metres of Spiderman print fabric! I'm not sure of the measurements for a single duvet, really. Here's the fabric: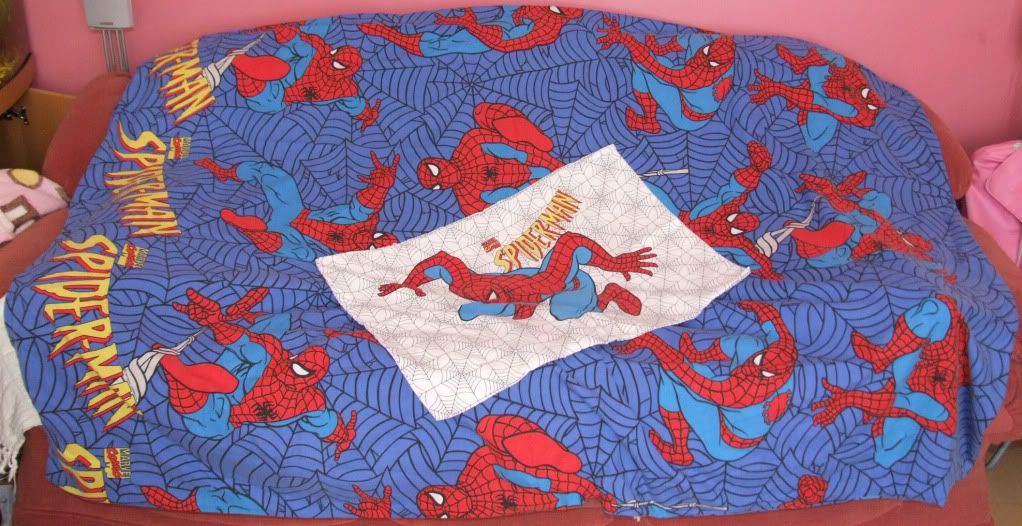 It is a pretty cool print, but I have no idea what to do with it. Any suggestions? I've seen people do great dresses out of this sort of thing, but I don't think it would be flattering on me as a dress. Maybe some other garment? Have any of you done something like this? My new sewing machine should be showing up in a couple days and I am super-excited, so I want to have a plan all ready when it gets here! Any thoughts appreciated. :D

The lj-cut is giving me some trouble... I hope it works...