May I point out to ya'll our
Enjoy!
$4 per corsage
3 flower bunches (2 black, 1 purple)
1 glitter foam skull
electrical tape
zip tie
(
Read more...
Collapse
)
Dollar Store Inspired. I'm using them to tie back our 'mourning curtains' on our porch (we have a mourning theme for Halloween going). The curtains are landscaping cloth that have been attached to a piece of pvc and zip tied to the top of our iron filigree column thinger-muh-bobs.
I've been a member for a long time, but never posted. I'm truly in awe of the projects other members have posted, so pretty! I skew to much more... simple projects. =)
I need help on my current one. In the laundry room of my apartment building, someone started a "FREE" box, and sometimes I find some decent stuff. A few months ago I found this set of three plastic butterfies that hang on a wall. They were spray painted gold, and had seen better days, but I just thought they still had potential, especially for a little girl's room, and in new colors, with maybe glitter.
(
Read more...
Collapse
)
Just taking a stab at the tags, not sure what applies here.
Hey.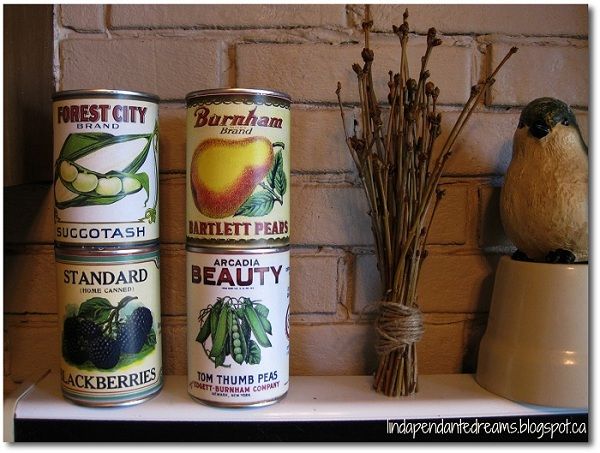 I searched for some vintage canned goods labels, resized them, printed them, and then Mod Podged them to tin cans.
They're just sitting there looking fabulous but I'll be using them for plants when I've found some that won't poison my cats, and which I won't kill easily.
If you'd like these prints, leave me a comment with your email address and I'll send you the files, which are Word documents.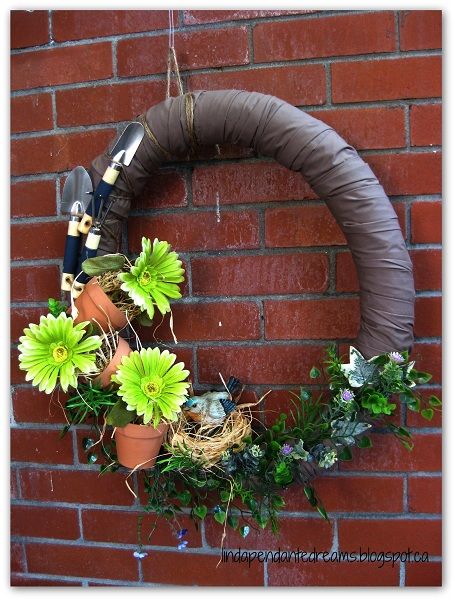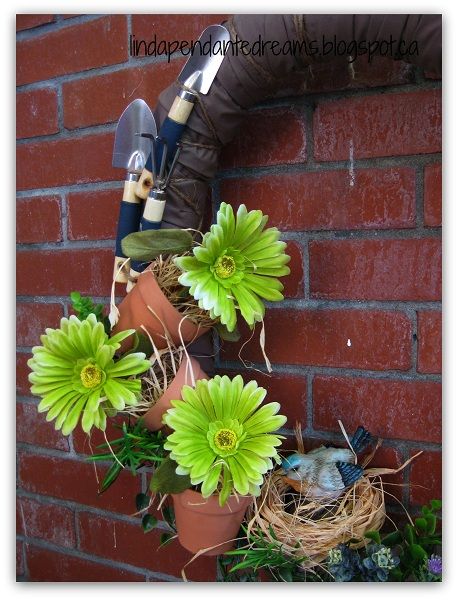 The details of how I made this wreath for $6 using dollar store items can be found
here.
I put together this wreath for my backyard garden.
I made this rose paper ball a while ago and I've been undecided about where it should live. I've sat it on a vase for the time being, and thought I would share a quick tutorial on how to make the roses, which is
here.
I waited until my lilacs started to bud to remind myself that I shouldn't have to put up with this never ending winter for much longer. Snip them, bundle them, tie them.
Also, If you ever find yourself undecided about painting over old brick, you should do it. I think this was the absolute best cheap makeover I have ever done which yielded the biggest impact.
Have you seen those bundles of twigs or grasses that cost upwards of $15? Yeah, you can make those for free.
Simply mix some white glue with a bit of water to get a runny consistency. Soak your twine (I used jute) in the glue mixture for about five minutes. Lay down a sheet of waxed paper and spell out your word. I wrote out the word beforehand on the wax paper using pencil, then followed the markings with the twine.
Let dry on a flat surface overnight and carefully peel away the waxed paper. If you have a few areas where the twine didn't quite stick together on an overlap, glue it down with hot glue.
I found this idea on Pinterest the other day.
This year, it's the first time when we are having a wreath hanged on entrance door for Christmas :) We don't hang them in my mother country, so I haven't had such tradition in my family :)
Well.. I didn't want to hang some artificial wreath, and, honestly, they are quite expensive for one time usage (who knows... may be next year, I won't have it on my door... -)) ). So My husband and I got a wreath from Costco made of real pine branches decorated with pine cones and some berries.
(
Decorated wreath...
Collapse
)
Hi all!