Teaser: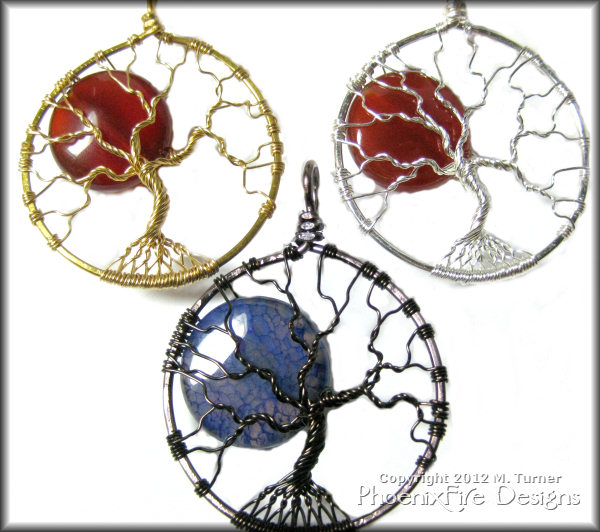 First off, I made a duo of "Blood Moon" trees. Named for the first full moon following the Autumn Equinox (and also known as the "Hunter's Moon"), these feature a semi-translucent red carnelian agate moon and are set in either non-tarnish sterling silver wire or a yellow gold non-tarnish brass wire:
These were inspired by a customer request and I couldn't decide if I liked it in silver or gold better, so I made both!

Then, I also got some neat, Fire Crackle Agate in an assortment of colors.
Fire Crackle Agate is made by taking a natural agate and heating it, which causes unique patterns within and enhancing the stone. The blue is a deep, rich, dark royal blue with darker "veins" of color throughout. I paired this particular one with the gunmetal wire. It's like the color of hematite; that dark near-black metallic.
I just love how all three came out!
I'm working on a few more unique variations right now as well! Trees have always been my favorite and it's why I've made them for so many years.

I've been doing some more trees in my "Full Moon" series lately. Especially ones that are unique, or one-off versions in a variety of materials and colors.