Materials
Mason jars (size is your choice - the ones pictured here are 64oz/half gallon)
Glass Frosting spray paint. I started with Krylon Frosted Glass Finish from Michael's, but it cost $10 for 6oz/7sq ft. I found a Glass Frosting spray by Rust-Oleum at Home Depot for $5 for 11oz/12sq ft. So I'd go with that one in the future.
Wire of your choice - I couldn't find non-coated for a more rustic-y look, unfortunately. I chose 14 gauge because it's a decent size and I didn't feel like my jars were going to slip.
LED tap lights - I chose two per jar.
Duct tape
Wire cutters
Pliers
1. Clean your jars with soap and water and dry thoroughly.
2. Apply Glass Frosting spray (follow spray painting directions on can).
3. Allow spray to dry completely (bottle says 5-10mins, but mine sat longer because I was doing other stuff.)
4. Take ~3ft of wire (for the 64oz jar), wrap once around the jar below the lip.
5. Pull enough back to form a hole that a pencil can fit through. Twist a couple of times around this hole.
6. Wrap loose end on other side around wire there so no sharp bits are poking out.
7. Feed excess wire back over the jar, through the pencil loop and twist off to secure.
8. Take one LED light and place face up at bottom of jar.
9. Place loop of duct tape to inside of jar's lid, sticking the bottom of the second LED light to the other side of the loop. (So that LED light faces downward into the jar from the lid.)
10. Hang where you want!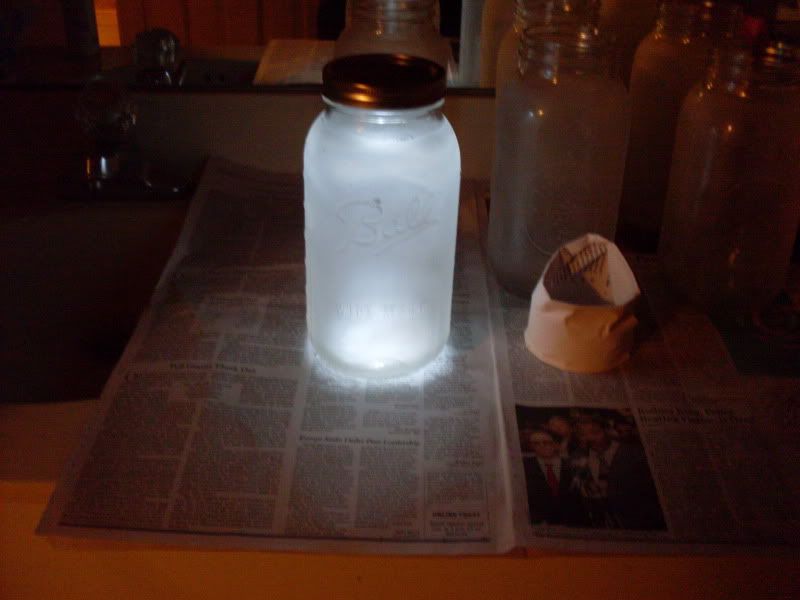 With its lights on, hasn't got a handle yet.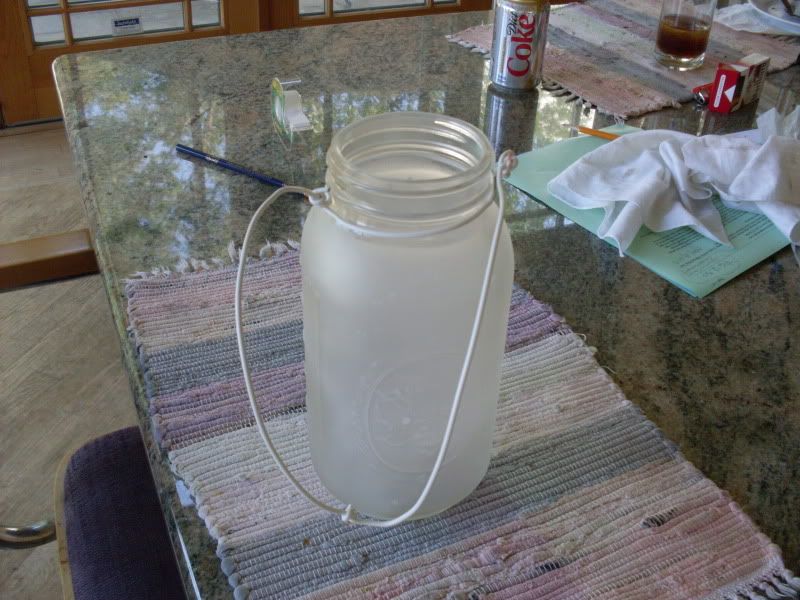 Lights not on but handle complete!