I have an adhesive question.
Yesterday the bf's sister and I spent a good 2 or so hours gathering pretty leaves from trees and preserving them via microwave for me to use in an upcoming art project.
Well today I went to attempt said art project, and found myself immeasurably frustrated.
I have an old piece of foam-core board that I painted, and now want to attach my leaves to.
I tried mod-podging them, but that just isn't working.
I have a hot glue gun, but I'm afraid that the high direct heat will either brown the leaves, or make them mushy.
What (if anything) can I use to attach them?
And so this isn't text-only:
So the boy and I went to Chicago in August to see a Kurt Halsey art showing, and in the spirit of things I decided to update my hand-made purse into something more Kurt appropriate.
I took images from two of his pieces and combined them.
The original purse: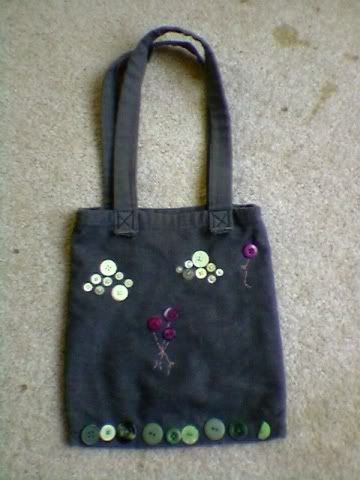 One of his 2 pieces: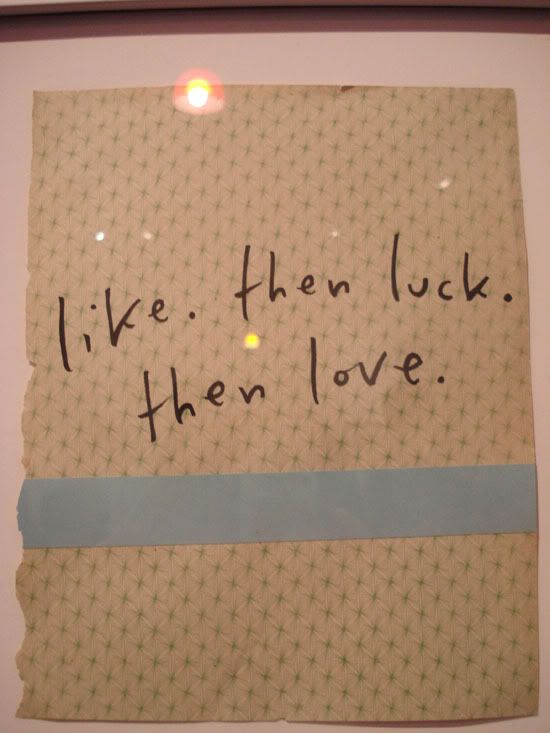 The new Kurt inspired bag: (excuse the feet. these were taken on the car ride to Chi-town)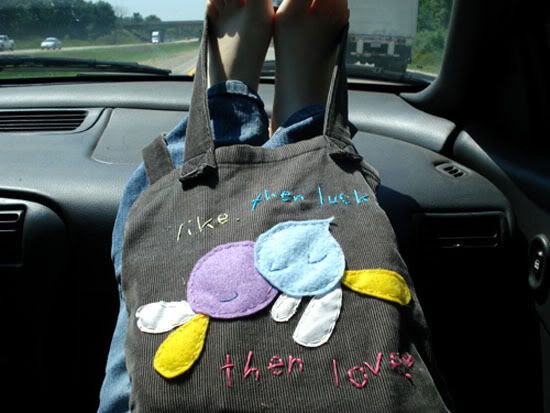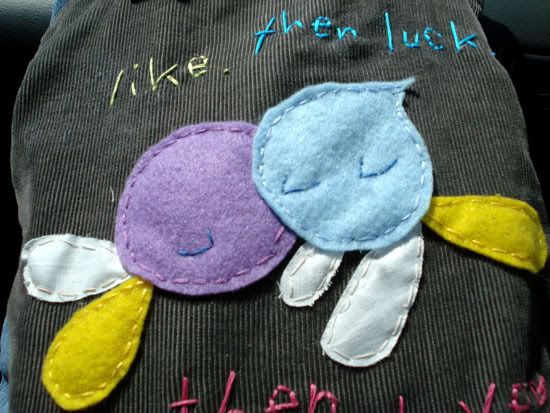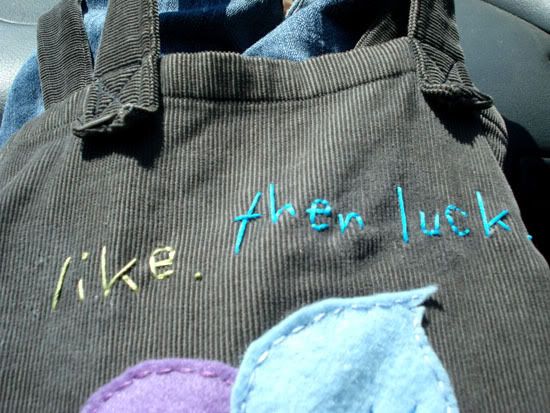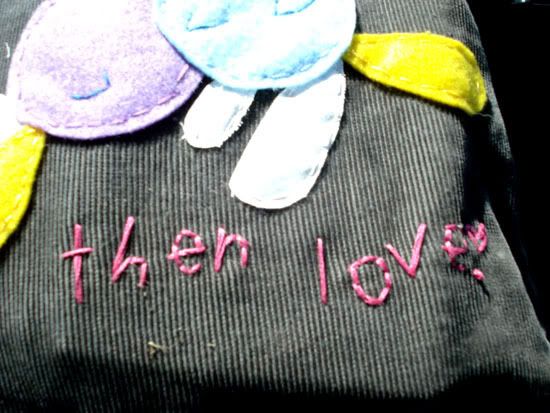 And for anyone else who wants to know how to keep fall leaves their beautiful colors, here's a short "tutorial".
The old way of preserving leaves was to place them in between sheets of wax paper, cover with a towel, and iron. But I didn't like this method because it took a looong time, and the leaf was then forever enclosed in wax. I wanted to have the actual leaf itself. Also the high heat from the iron turned all the yellow leaves brown. So, I surfed the web a bit, and found this:
- Gather leaves that are still on the trees, that are free of rips and holes. The ones on the ground will most likely already be dry and crunchy.
- Place leaves in a single layer on two pieces of paper towel. Cover with another single sheet, and microwave on medium 30 seconds - 2 minutes, checking every 30 seconds or so. Make sure to stick around during this step and watch your leaves, as they can catch fire if cooked too long.
I also found that sticking a heavy piece of bakeware (microwave safe, of course) on top of the paper towel kept the leaves from curling up.
- Microwave until they no longer feel waxy, and store in an air-tight bag or container until you're ready to use them. Then craft away!
Thanks in advance for any tips or suggestions.
I promise to post pics when it's done!
Alright, I've looked through the memories, but they don't seem to have the answers I'm looking for.
Current Mood:

artistic

Current Music:

The Format - Does Your Cat Have A Moustache?